Americas Best Value Inn - Saginaw
43.4138859773305

,

-83.89523059129715
67US$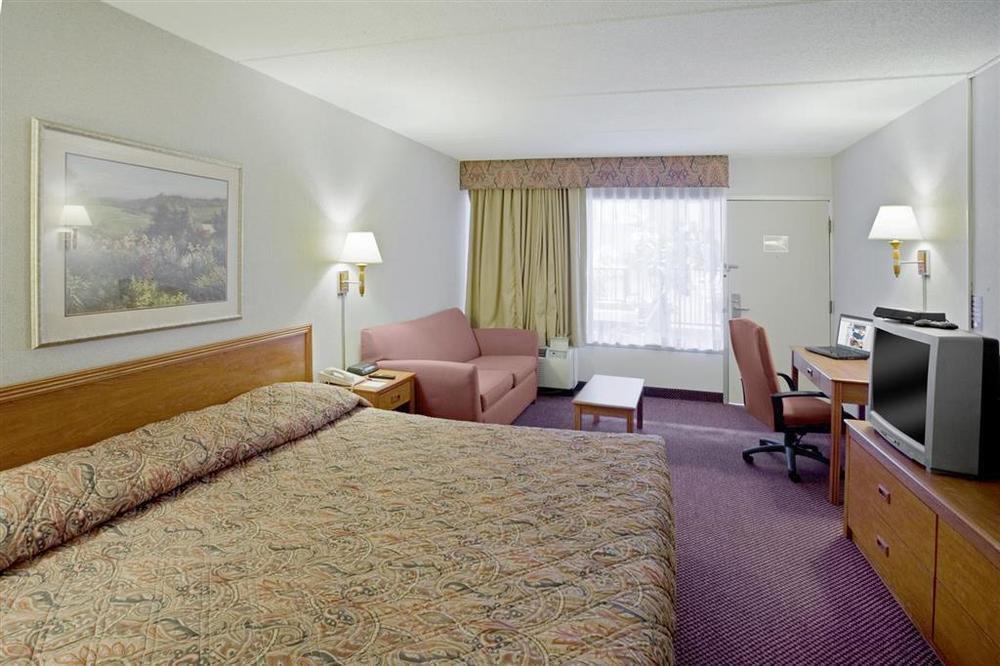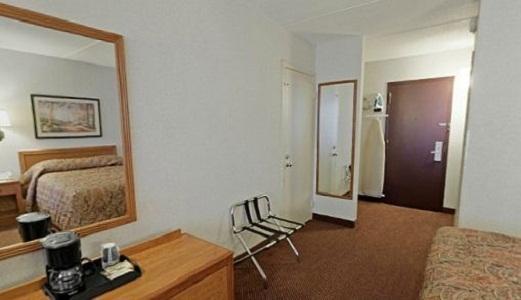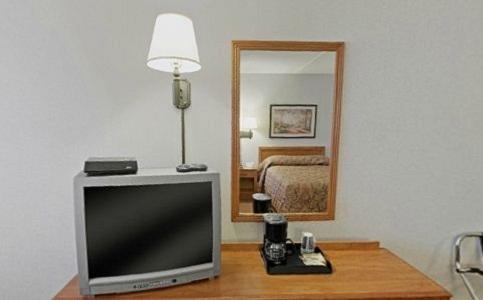 Address
1408 S Outer Dr ;
,
Saginaw
,
Michigan
,
United States
,
48601-6633
, Michigan
Overview
The 2-star Americas Best Value Inn-Saginaw South is set about 10 minutes' drive away from Mid-Michigan Children's Museum and within 2.8 miles of Saginaw Art Museum.
Location
The low-budget inn is placed about 19 miles from MBS International airport and 2.5 miles away from cultural venues like Castle Museum of Saginaw County History. Sports fans will also enjoy visiting Dow Event Center, 2.9 miles from the hotel. Cathedral Of Mary Of The Assumption is situated 10 minutes' drive from the designer accommodation.
Rooms
Rooms at this Saginaw hotel feature a comfortable decor. Some comfortable rooms feature private bathrooms.
Eat & Drink
The Americas Best Value Inn-Saginaw South offers a continental breakfast which includes fresh fruits, fresh coffee and waffles. The Burger King is set just walking distance from the accommodation.
A continental breakfast is served and charges are applicable. 
Internet
Wireless internet is available in the entire hotel for free.
Guest Parking
Public parking is possible on site for free.
Year renovated:   2007.  Number of floors:   4.  Number of rooms:   80.
Best-Rated Best Western International Hotels around Saginaw
Best Western International is a renowned hotel brand that prides itself on exceeding guests' expectations with exceptional service, comfortable accommodations, and affordable rates. With locations in over 100 countries, Best Western offers its guests convenient access to popular attractions and activities. Its commitment to sustainability and eco-friendly practices ensures a guilt-free stay for those who care about the environment. Best Western International truly delivers an outstanding guest experience.
229 reviews

94$ / night

57 reviews

89$ / night

111 reviews

54$ / night

14 reviews

67$ / night

24 reviews

75$ / night

56 reviews

69$ / night

23 reviews

53$ / night

8 reviews

77$ / night
Facilities
General
Internet
24-hour services
Food/ Drinks
Swimming pool
Meeting facilities
Sports activities
Services
Tours/Ticket assistance
Wake up service
Dining
Continental breakfast
Bar/ Lounge area
Good to know
Check-in
from 5.59 pm
FREE
Check-out
until 12 pm
FREE
Children & extra beds
One child
0 - 2 years
Crib
FREE
Existing beds
FREE
All children
3 - 17 years
Existing beds
FREE
Extra bed
us$ 10
Children above
17 years or adults
Extra bed
us$ 10
Maximum capacity of extra beds in a room is 1. 
Pets
Pets are allowed on request.
Location
1408 S Outer Dr ;
,
Saginaw
,
Michigan
,
United States
,
48601-6633
, Michigan
City landmarks
Nearby
Restaurants
Hotels nearby
Buena Vista Lions Park
1.0 mi
2876
Saginaw Children's Zoo
2.9 mi
Buena Vista Kuffman Park
1.5 mi
Museum
Castle Museum of Saginaw County History
2.3 mi
Saginaw Beauty Academy
1.7 mi
Mexican Civic Union
1.7 mi
United Automobile Workers
1.7 mi
Holy Communion Gospel Center
1.8 mi
Church
Cathedral Of Mary Of The Assumption
2.2 mi
St. John Lutheran Church
2.1 mi
Museum
Mid-Michigan Children's Museum
2.9 mi
Warren Avenue Presbyterian Church
2.2 mi
New Covenant Christian Center
2.3 mi
Church
First Congregational Church
2.4 mi
Saint Joseph Parish
2.4 mi
St Mary's Medical Center
2.5 mi
First Merit Event Park
2.5 mi
Zoo
Children's Zoo at Celebration Square
2.9 mi
Market
Downtown Saginaw Farmers' Market
2.6 mi
527 Ezra Rust Dr
Japanese Cultural Center
3.0 mi
Museum
Saginaw Art Museum
3.0 mi
Tropicana Banquet Hall
2.7 mi
Saginaw Rubbish Collection
2.7 mi
Saginaw City Recreation Div
2.7 mi
Delta College Ricker Ctr
3400 ft
Restaurant
Popeyes Louisiana Kitchen
800 ft
Getting around
Airports
MBS International

(MBS)
16.5 mi
Bishop International

(FNT)
36.8 mi
You can book a shuttle, once your reservation is complete.
Reviews of Americas Best Value Inn
missing

The price and the breakfast - the lady maintaining the breakfast was very friendly and helpful.

The entire building was not very clean, the halls had blown in leaves from outside, the pool had candy papers and Popsicle sticks in it.

missing

Location

Room dirty, hot tub cold, no hot water or towels in pool area, room in poor repair, tub didn't drain, wallpaper peeling off in bathroom, tiles in shower carved into wall... TV volume constantly up/down....

missing

Most of the staff were very very very friendly. It was cheap and they let us have a early check in. But you get what you pay for.

The up keep is very very poor. A lot of things didn't work : - The TV remote - The elevator - The windows dont open - The room door was VERY hard to open it took about 5 times each time to get it open. - They sold microwave pop corn but no where to cook it. - There was no holder for the toliet paper it was just placed on the counter.

missing

it was a great price and roomy

the bathroom was not cleaned before we checked in and the shower nosel was comming out of the wall

missing

The staff were very nice.

The first room they put us in, nothing was connected, the bathroom light was barely working and constantly blinking. At first we were told that someone would be up to fix it. Then after about 2 hours we had to change rooms. The sauna never did get hot. The spa water was just barely warm. The exercise equipment did not work properly or at all.

missing

I liked being able to get a room for just Saturday night. I wasn't able to stay on Friday night.

I didn't like the trash the was all around. All the trash cans on the out side were full and over flowing. I didn't get to the Hotel until after 4:00, so you would have thought they would have been cleaned out by then. Also I didn't like how dirty the elavator was. Another thing the hallway was very cold, it made us turn up the heat in our room just to get warm

missing

Beds ok, staff nice.

Well the first thing is the place has roachs, I seen one in the lobby bathroom and in our bathroom that night which left me horrfied could not sleep at all and the hotel is in great need of repairs dirty vents in hallways lights out in hallways, spa broke down a shady bar that looks like its from the 70s or something, shady people staying in hotel and area not good very shady) my advice do not stay here!

missing

Staff freindly, good beds and a decent breakfast.

Sauna, Hot tub and exersise equipment were broke while we were there. Building shabby and run down.

missing

Perfect location and comfortable

the hotel is tired looking, needs upgrading and certain things need to be fixed. The tiles in our bathroom were broken, only one ice machine in the whole hotel was working. We needed to ask for toilet paper as when the room was cleaned the toilet paper was almost finished but no extra roll was provided so that we could refill. Otherwise our room was clean and comfortable.

missing

Nothing, It is a dirty hotel I would not stay there again and would not recommend it. pillows lumpy and flat, black mold in the bathroom. Bathroom floor dirty, Windows dirty, sheers looked as though they had never been washed.Toilet dirty around bow, night lock did not work. Not a good experience.

missing

The pool, hot tub, and continental breakfast

It really is a good rate but it is really a dive too many things wrong with the hotel to list.

missing

The Price

The pillow were hard and the motel seemed dated. The shower was border line dirty

missing

Great stay. Will recomend to friends.

missing

the pool but to many chems in it

not very clean or friendly

missing

Rates were lower than most in the area. The room was clean. A basic breakfast was offered and it was fine.w

Many things were in disrepair or absent. We found 1 outside door that was not locked and could not be locked as it was. Everything in the room was well worn.